If you look closely at the boundary of the proposed Red Hill Special Interest Area, you'll see an irregular arm extending northwestward to encompass the Mosquito Creek drainage from its junction with the North Fork to the big bend at China Ravine. This reach (~2900') follows a straight course in and out of serpentine formations through a steep and narrow canyon. Parts of it burned in the 2012 Chips Fire, which apparently backed at lower intensity on the eastern slope, and rushed along the western wall at high-intensity through the canopy.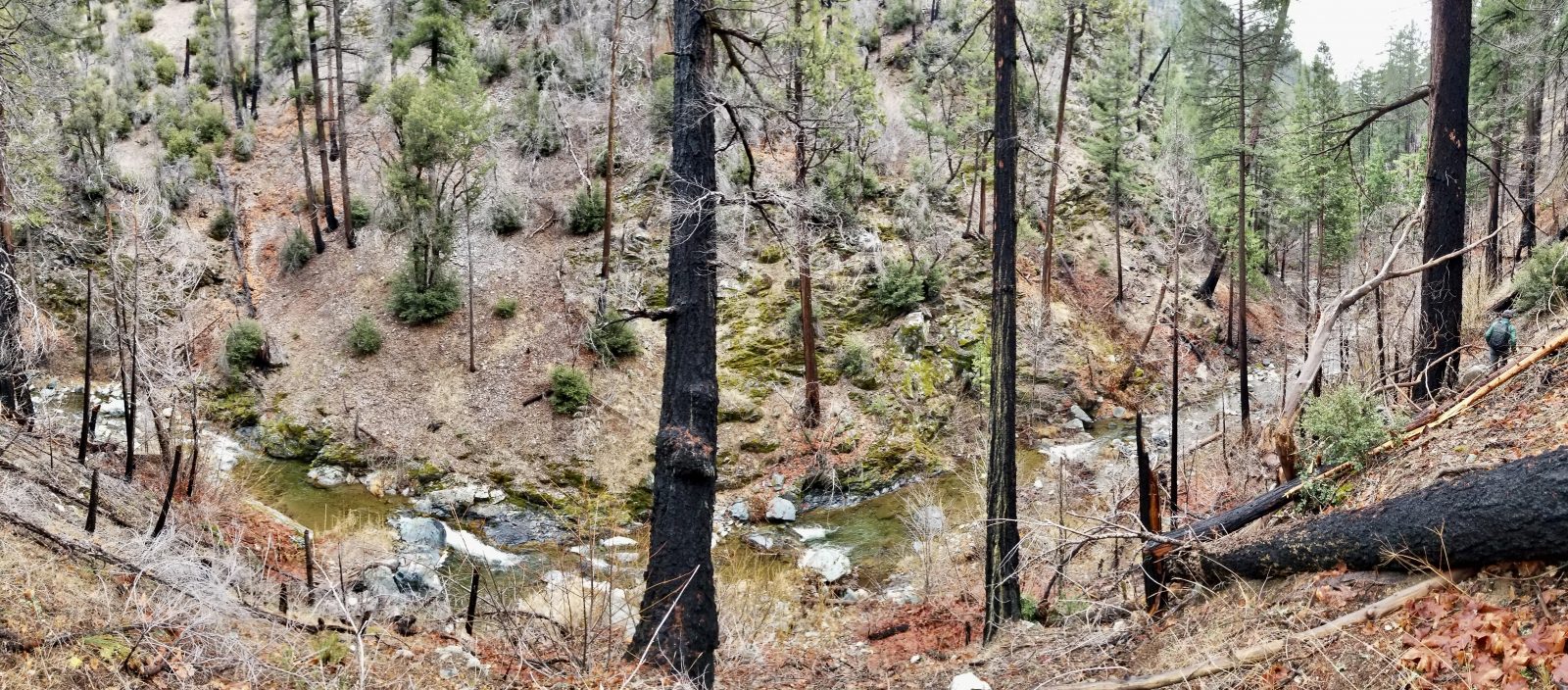 ---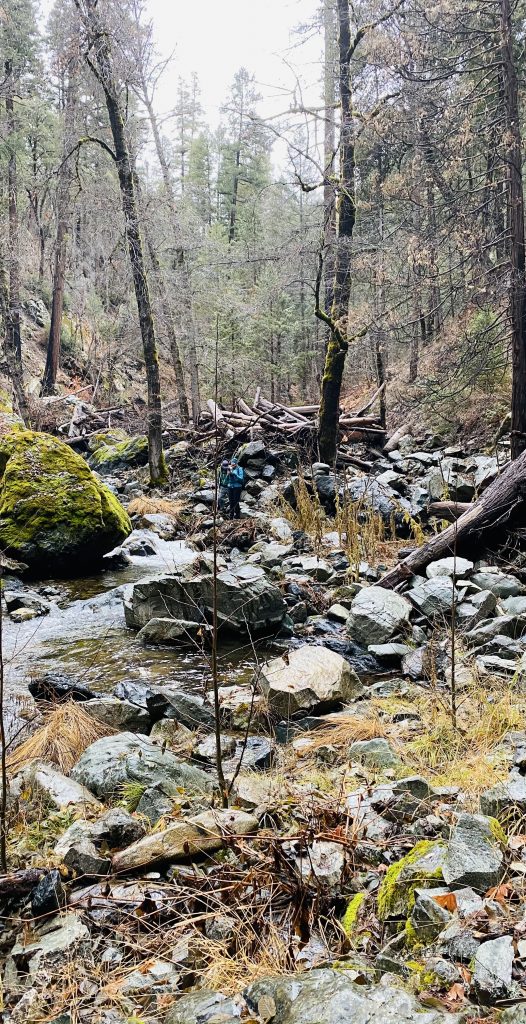 Only a handful of the largest trees were spared. Nearer to the confluence, the creek bed is jammed by massive fire-scarred logs that overshadowed us as we walked past.
---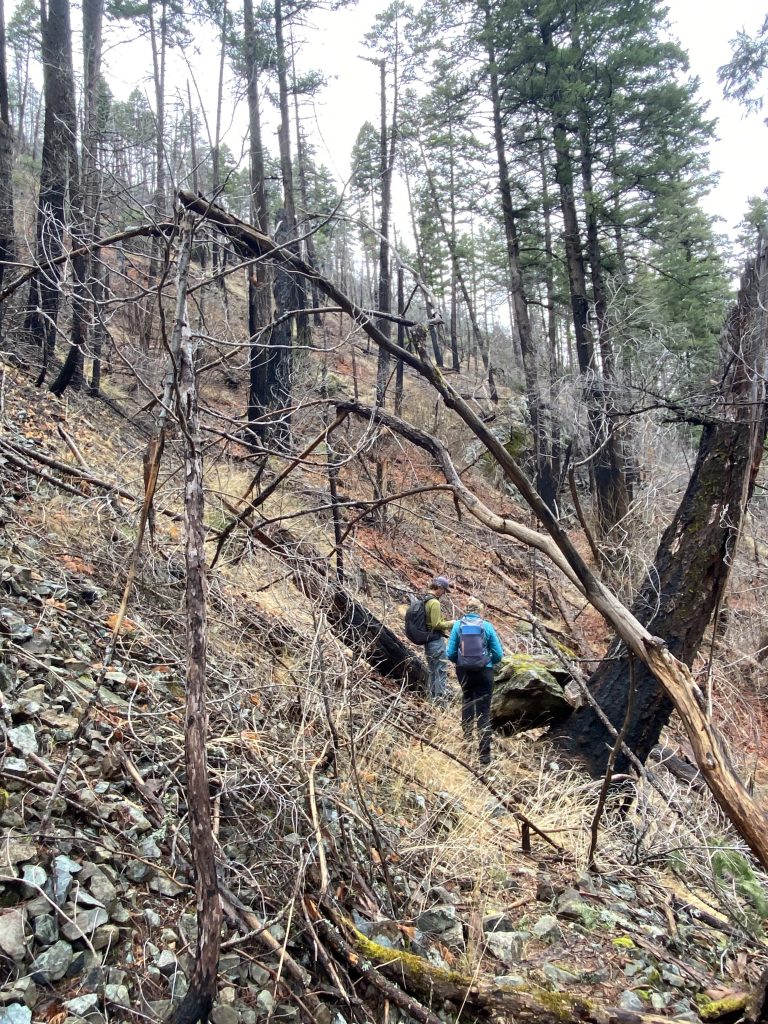 The first time we visited Mosquito Creek we were treated to a light, soaking rain, and on the second excursion we walked in new snow that was full of quail and cat tracks. Mosquito Creek is fabulous in winter! We followed traces of one of those old trails that exists on historic maps but vanishes from the record on newer versions. Once upon a time a trail extended to a prospect, crossed the creek, and continued to the spot where the proposed boundary lies today. There isn't much trail left above the creek crossing, but careful footwork and a keen eye takes you past wonderful outcroppings, through burned and open forest, with glimpses of the creek below.
---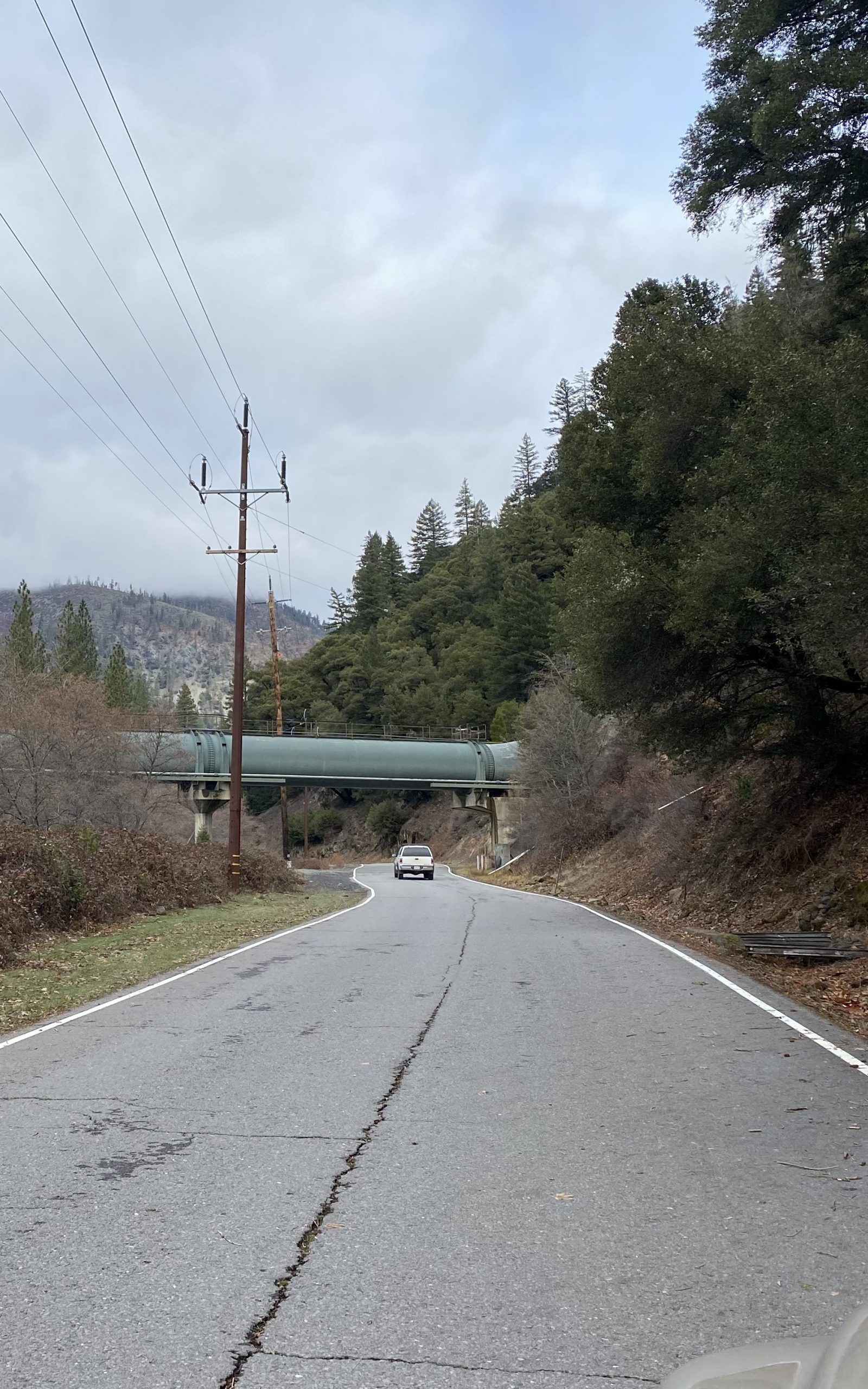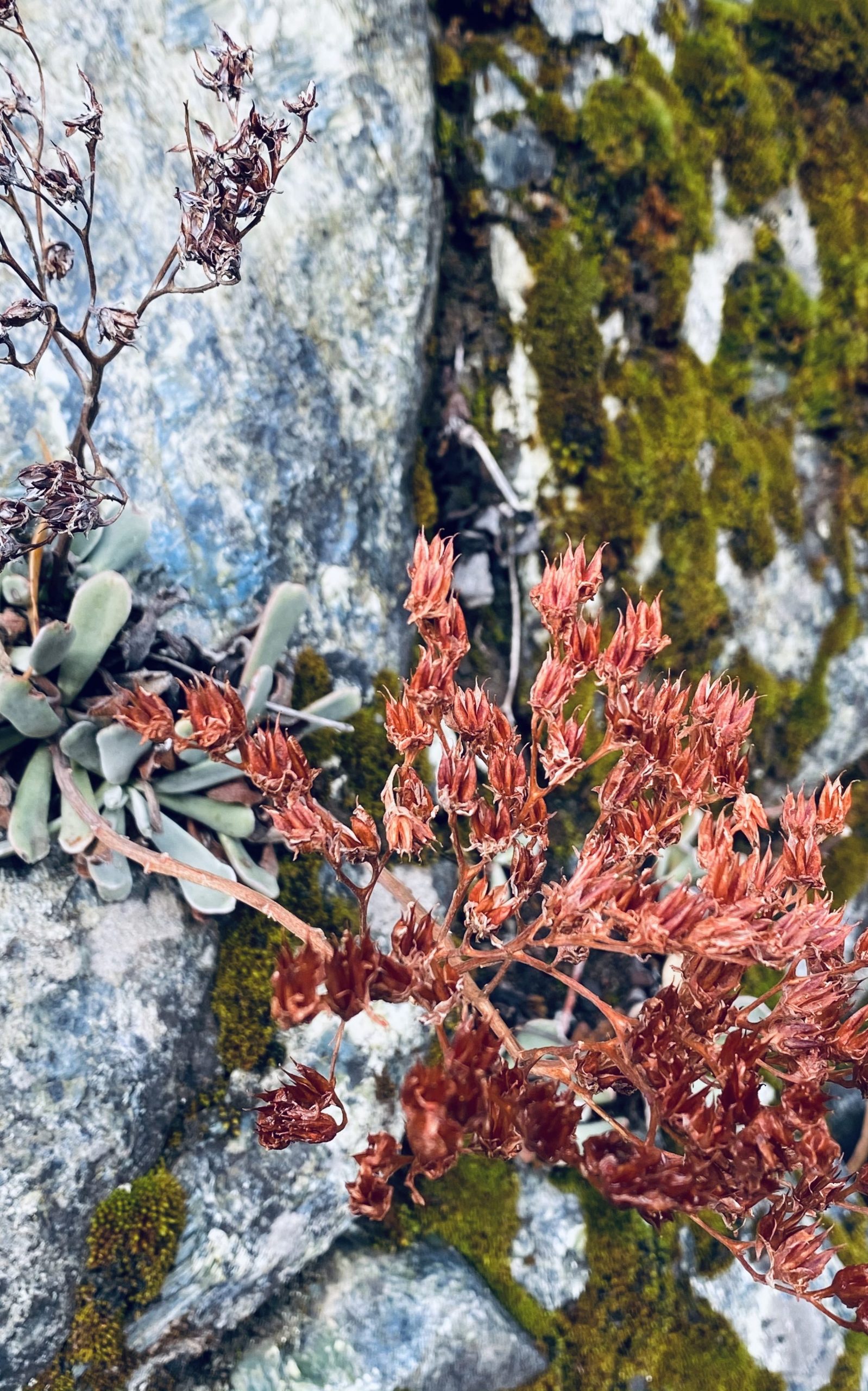 Across nearly the entire proposed Red Hill Special Interest Area, the weird and outsized combination of utilities and transportation infrastructure are palpable; one is never far from the realization that the nature they experience here is in large part mechanical, engineered, altered, and deeply affected by interconnectivity with other places, and, for good or ill, the work of the modern world. And yet, there is, too, the constant presence of rare and endangered plant life. Through striking visual contrast, adjacent technologies and ecologies provide an important challenge to our conception of pristine nature. Its contrasts are also perhaps what makes this site among all of the proposed SIAs so strange and wonderful—and accessible—and vulnerable. As it challenges us to think about our definitions of "wild" and "natural," it likewise points to a perilous but possible coexistence that requires cooperative, thoughtful protection and careful management as we look ahead.
Still, within the proposed Red Hill SIA, Mosquito Creek seems to be the wild exception. It stands apart from roads and dams and pipelines and trains and powerlines. Though it has yet to be properly studied, it is among the areas identified by Friends of Plumas Wilderness in 1986 as a Conservation Area of Special Concern in their Conservationist Alternative to the Forest Plan. It seems prudent to protect Mosquito Creek as part of the Special Interest Area and to restore the historic trail. There's much there to care for, appreciate, and consider!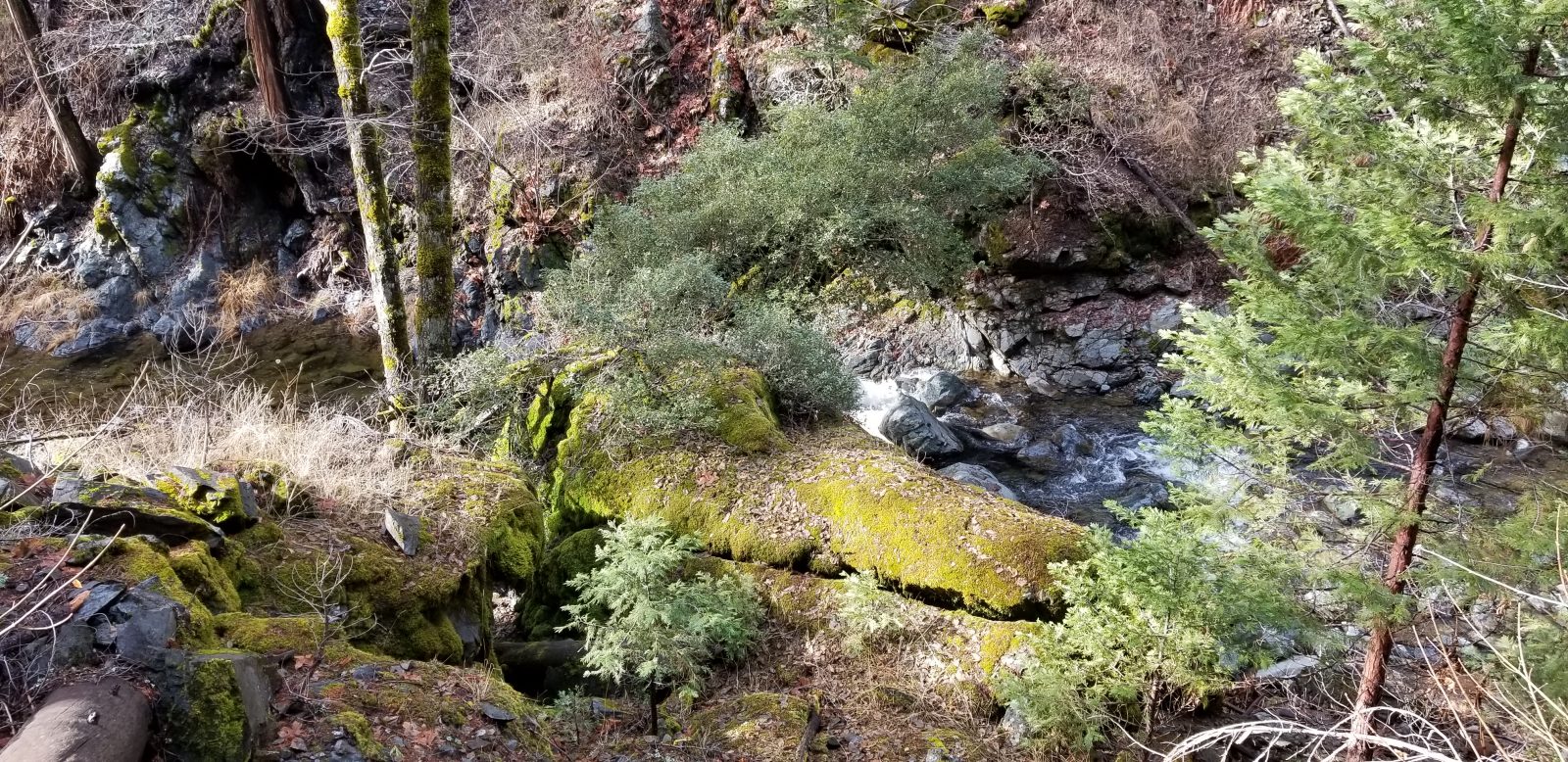 ---
STUDY. EXPLORE. MAINTAIN.