Where is the Lost Sierra?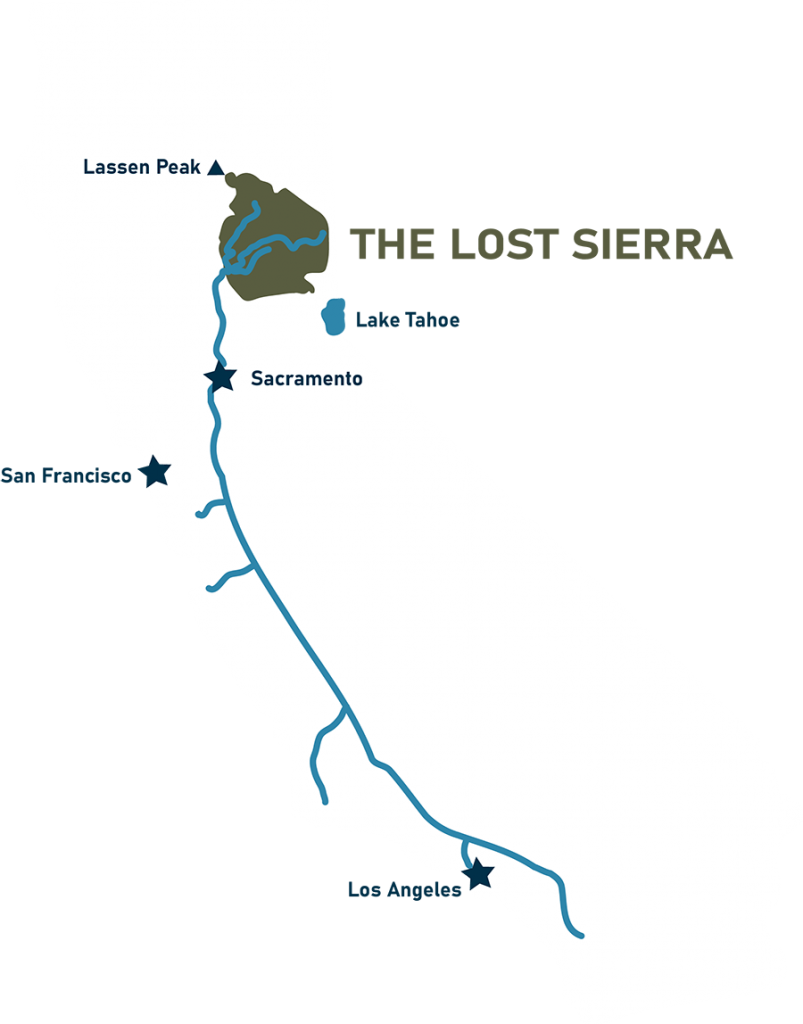 The Lost Sierra is in Northern California where the Sierra Nevada and Cascades converge and the North Yuba and Feather Rivers flow. The area is home to the Mountain Maidu, who have lived here for thousands of years. During the Gold Rush, hundreds of thousands of people from all over the world poured in to the area to strike it rich. After the gold played out, most miners moved away and their short-lived cities were lost over time.
Today, Plumas and Sierra County's quaint communities are surrounded by public lands managed by the Forest Service. The abundant lakes and rivers of the Lost Sierra provide pure drinking water for most Californians—27 million people get their drinking water from the Feather River.
Untamed Nature
Most diverse conifer forests on planet
The Lost Sierra is home to the most diverse conifer forests on the planet. You can see the largest ponderosa pine tree in the world as you hike into the Middle Fork Feather River on the Hartman Bar National Recreation Trail.
1,400+ plant species
We have some of the highest plant richness of California with over 1,400 species. You can see five carnivorous plant species within a square mile at the Butterfly Valley Special Interest Area.
125 native bird species
With over 125 native bird species, the Lost Sierra has some of the highest bird richness in the state during the summer breeding season. Bring your canoe to the Sierra Valley Preserve to see a diversity of birds in spring.
55+ mammal species
Mammal richness in our region is among the highest in California with over 55 species. You don't need to drive to Yellowstone to see wolves as the Lost Sierra is home to the only wolf pack in California, the Lassen Pack.
Explore the Lost Sierra
The mild winters and long, dry summers of our four-season Mediterranean climate mean we get to play outside year-round here in the Lost Sierra. And with an average of only six people per square mile—compared to Los Angeles County's 2,138 people per square mile—most likely you and your friends will be the only ones around.
Not everyone is as lucky as us to have the Lost Sierra as their backyard. That's why we've created these 360 videos—to offer a virtual glimpse of the unspoiled nature and exceptional outdoor recreation opportunities the Lost Sierra offers.
At Friends of Plumas Wilderness, we want future generations to have wild places where they can find refuge and connect with nature. We also want those of you who don't call the Lost Sierra home, to have a sense of just how special this place is and why it's worth protecting. Check out the videos and use your cursor to scroll around and explore the Lost Sierra in 360 directions.