First Autumnal Edition!
The bi-annual newsletter of Friends of Plumas Wilderness
---
Letter from the President
The Autumnal Equinox has been one of the most significant days of the year for me for many years. My partner Darla and I were married on this day 25 years ago. We chose this date because the equinox epitomizes equity.
This year could well be one of the most significant in all of our lives. Each of us will likely mark the years before and after 2020. The year has revealed the instability of civilization, inequity in our society, and the benefits and risks of living close to nature.
Through most of the summer the Lost Sierra felt like the calm eye of the storm: while the pandemic ravaged urban areas, and peaceful protests against injustice were too often marred by violent counter-protest, locals and tourists alike looked to public lands in the Feather River watershed as sources of peace and solitude.
In mid-August thunderstorms passed across Northern California, and thousands of lightning strikes caused hundreds of fires. Many of these small fires erupted into larger ones because of a warmer climate and forest fuels have accumulated to unsafe levels due to a century of fire suppression. The North Complex fires burned for weeks threatening our mountain communities and our health. How forest health is directly related to our health was never more obvious.
Then, on September 8 everything changed in a day. Strong winds associated with a cold, dry front caused a spot fire on the south side of the Middle Fork Feather River near Horseshoe Bend. The fire exploded up the opposite ridge and did not stop until it reached Lake Oroville, burning forests and foothill communities. Coupled with the Loyalton Fire, which burned only weeks earlier, the entire Middle Fork drainage has been forever changed.
The North Complex currently ranks as the 5th deadliest fire in California history with 15 fatalities; the 5th largest fire at 299,723 acres; and the 6th most destructive fire consuming 1,784 structures. We mourn for the loss of life, both human and non-human.
And what do we make of all this apparent chaos? For me, it points to striving for more balance and equity in our lives, in our society, between civilization and surrounding wild lands, and between forests and fire. Let's work together to create a more just and balanced world.
Leave it wild!
Darrel Jury
---
VOLUNTEERISM
RIVER CLEAN-UP, TRAIL RESTORATION, SIGN INSTALLATION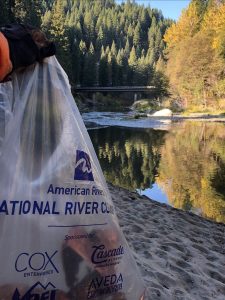 Anti-Social River Clean-Up
The third Annual River Clean-Up will be different than previous years due to the pandemic but we should all celebrate fall by going out and cleaning up our waterways! Our 2020 River Clean-Up will be an 'anti-socal' event, meaning you can participate from anywhere during the month of October with your #quarenteam or individually. Share your photos and clean up description with us via Facebook, Instagram or Email (info@plumaswilderness.org) and be eligible for prizes!
Friends of Plumas Wilderness T-shirts to the team/individual with the largest haul.
Middle Fork Feather River Clean-Up T-shirt to the team/individual with the largest haul from the Middle Fork upriver of Sloat
T-shirt to the individual with the largest individual item cleaned up
Stickers to the team/individual that participates the furthest away from the Lost Sierra
Please be COVID conscience by not traveling to areas with current restrictions to participate and wearing a mask and socially distancing when appropriate. Photos of groups not being COVID conscience will not be eligible for prizes.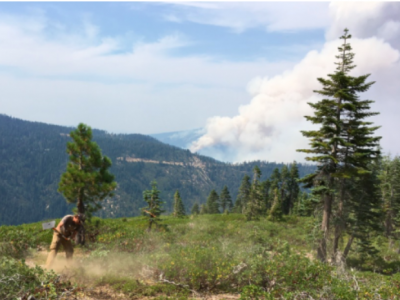 Middle Fork Trail Restoration
This spring Friends of Plumas Wilderness worked with Sierra Buttes Trail Stewardship to identify trails in the Middle Fork Feather River Canyon that needed work. With support from the National Forest Foundation and Wilderness Stewardship Alliance, SBTS began work on restoring historic Middle Fork trails this summer. Before the North Complex Fire stopped work, Henry O'Donnell and crew were able to restore the upper 1/3 of the Buzzards Roost Ridge Trail while Mandy Beatty and volunteers started at Nelson Creek and made it to the first creek crossing. Mandy and volunteers also brushed and re-graded the upper 3/4 mile of the McCarthy Bar Trail.  Alan DeWolf and Phil Braddick cleared the No Ear Bar Trail and put up an adopt-a-trail sign. Much more trail work will be needed throughout the Middle Fork Feather River Canyon in the wake the 5th largest fire in California history.  Let us know if you have a favorite Middle Fork Trail, if it needs work, and if you can volunteer or help fund trail restoration work. (Photo: Alex Terry on the Buzzards Roost Ridge Trail.  Note North Complex Fire in the background.)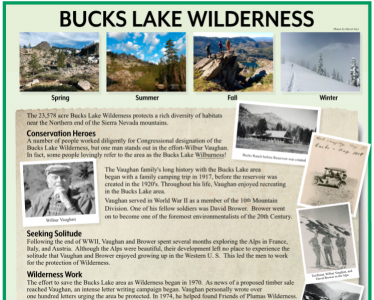 Bucks Summit Kiosk Installation
Friends of Plumas Wilderness partnered with the Pacific Crest Trail Association, Plumas National Forest, and Quincy Rotary to design and construct two new signs for the Bucks Summit PCT Trailhead. The kiosk and signs will be installed after the mandatory evacuation order for Bucks Lake is lifted. The Pacific Crest Trail sign features a map of the PCT from Interstate 80 north to Highway 36 and a sign indicating whether fire restrictions are in affect. The Bucks Lake Wilderness sign (shown above) tells the story of Wilbur Vaughan, who helped found Friends of Plumas Wilderness in 1974 and worked to protect the Bucks Lake Wilderness in 1984. Vaughan was an active member of both the local Rotary and our organization and left gifts to both groups with his passing. Close friend John DeSelle said, "The kiosk will be a great way to honor Wilbur Vaughan's conservation legacy and inspire others to protect wild places like the Bucks Lake Wilderness." (Photo: A portion of the Bucks Lake Wilderness sign to be installed at Bucks Summit.)
---
EDUCATION
PLUMAS ARTS WILD & SCENIC FILM FESTIVAL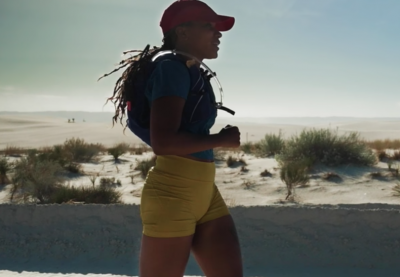 Wild & Scenic Film Festival
This year's Plumas Arts Wild & Scenic Film Festival was virtual. Friends of Plumas Wilderness sponsored a film called This Land, a story by runner, filmmaker, and advocate Faith E. Briggs about National Monument access told through a journey of inclusion and empowerment. She runs through National Monuments in Oregon, Utah, and New Mexico, all threatened by the Trump Administration, sharing her story and showing that public lands belong to all.
---
ADVOCACY
MAKING A DIFFERENCE IN WILDLAND AND RIVER PROTECTION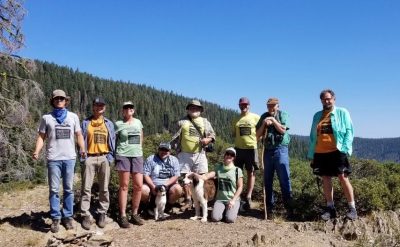 Focus on the Middle Fork!
"If you love a place, the time to protect it is now." Friends of Plumas Wilderness have taken Dick Laursen's prophetic words to heart. We have hosted several planning meetings with local, regional, and national advocates to imagine long-term protections for the Middle Fork Feather River and its tributaries. The group met in the field in July in McRae Meadows, the headwaters of Jamison Creek and the East Branch of Nelson Creek, two of the Middle Fork's largest tributary streams, found at the very heart of the Lost Sierra. At these meetings, stakeholders evaluated various conservation tools that can be used to protect this unique place while experiencing the landscapes firsthand. In the coming months we will be refining our conservation vision for the Middle Fork Feather River Canyon and reaching out to potential partners. If you have a personal connection with the Middle Fork Feather and want to join our effort let us know via our web site. (Photo: Dick Laursen, second from right, and friends above McRae Meadows.)
Need for a long-term plan for the Middle Fork Feather River
In the wake of the North Complex Fires, the Middle Fork Feather River will see ecosystem changes rarely observed at this scale:  widespread vegetation loss and erosion; loss of fish and wildlife, wildlife habitat, ancient trees, and rare native species; invasion of non-native species; impacts from fire suppression, including miles of dozer line; construction of new roads for salvage logging; and proliferation of user created roads and trails.
As soon as the smoke clears from the North Complex Fire, there will be unprecedented pressure to change the Wild Heart of the Lost Sierra – the lower Middle Fork of the Feather River. In order to maintain the wild character of this unique place we will need to come together and let the Forest Service know we want to "Leave it wild".
As Dick Laursen said in our film Visions of the Lost Sierra, "There isn't really a plan on how the Middle Fork should be treated. It's probably coming due to get off our butts and do something." The current plan for the Wild & Scenic Middle Fork Feather River was written in 1970, fifty years ago, and only addressed the river corridor on 1/4-mile on either side of the stream. It is now time to get off our butts and create a long-term plan to restore the Middle Fork Feather River Canyon as the best decisions are not made in haste under the threat of wildfire or in a rush to salvage timber. Stakeholders need to come together as soon as possible to develop a long-term plan for the lower Middle Fork Feather River that addresses:
Soil protection
Vegetation / reforestation and fire
Fish and wildlife
Human development / land ownership
Recreation / Wilderness / Wild & Scenic Rivers
The existing management plan for the Wild & Scenic Feather River is antiquated and irrelevant. We need to inform the Forest Service how we want these unique public lands to be managed for decades to come.
As planning for protections of our beloved watershed gains momentum, all stakeholders are invited to contribute: their time, their money, their ideas, and their concerns. As stakeholders in the present and future of this place—especially in these strange and difficult times—it is essential for each of us to re-evaluate, and perhaps re-commit, to protecting the nature and cultures of the Feather River watershed however we can. Please contact Friends of Plumas Wilderness to find out how you can do your part and make your voice count!
Things you can do today:
Email Plumas National Forest Supervisor, Chris Carlton (christopher.carlton@usda.gov), to let him know how we want our public lands managed. If the Middle Fork Feather River is important to you, now is the time to act. Don't assume that others will speak for you. It is up to you to express your love and concern for the Middle Fork Feather River now.
In your Email include:
Why the Middle Fork Feather River Canyon is special to you
How the area needs a new management plan
Specific areas or topics of concern
Constructive ideas on how to address your concerns
Contact your federal, state, and local elected officials and share your thoughts and concerns about climate change impacts on our public lands. Let them know that our region has suffered from large scale fires and floods and we need to address climate change now.
Vote for politicians who believe in science and vow to pass legislation to slow climate change.
---